December 2014
Hello Everyone!
Thanks so much to everyone that came out to see our performances of VICKIE & NICKIE'S HOLIDAY SLEIGH RIDE at Don't Tell Mama in NYC this December!  We had a great time performing the show and had wonderful audiences!!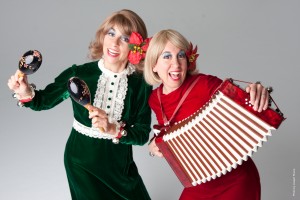 If you weren't able to see us live, here's a snippet of our holiday show from Dixon Place a few years ago – enjoy!
In other news, we're having a special 50% off sale on our tee-shirts!  They usually sell for $20, but from now until the end of December, they are on sale for ONLY $10 EACH!  They make great holiday gifts!  Visit our store to order yours today!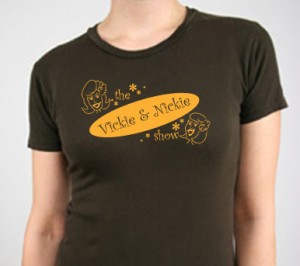 Thank so much – We wish you all the best for a wonderful holiday and new year, you betcha!!xoxo,
Vickie & Nickie
Vickie & Nickie's Holiday Sleigh Ride
is created, written and performed by
Lisa Brigantino and Lori Brigantino.
Co-directed with Jerry Snee