October 2014
Hello Everyone!
It's time to *RING IN THE SEASON* with your favorite singing sister duo from Minnesota…oh ya!  We're darn-tootin' thrilled to be performing VICKIE & NICKIE'S HOLIDAY SLEIGH RIDE this year at Don't Tell Mama in NYC!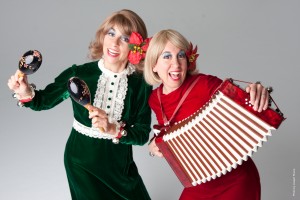 You betcha we'll getcha in the holiday spirit with side-splitting laughter to the rafters and holiday tunes that'll make your heart croon!
Us busy Minnesota moms will be in the big apple for 2 nights ONLY!  So get out your calendars and sharpies and mark it down now!
*WEDNESDAY, DEC 3RD @ 7pm Sharp
(doors open @ 6:30)
*SATURDAY, DEC 13TH @ 5pm Sharp
(doors open @ 4:30)
Keep your eyes peeled for more details coming soon!
xoxo,
Vickie & Nickie
Don't Tell Mama is located at 343 West 46th Street, New York, NY 10036  between 8th and 9th Avenues.  There is a $20 cover and a 2 drink minimum per show. CASH ONLY.  General admission – all ages.  Doors open 1/2 hour before showtime.  Call 212-757-0788 after 4pm to make reservations. A link to reserve seats online will be coming soon!
Vickie & Nickie's Holiday Sleigh Ride
Created, written and performed by
Lisa Brigantino and Lori Brigantino
Co-directed with Jerry Snee